Walbro GSS350G3 350lph High Pressure Fuel Pump & Install Kit 91-96 Toy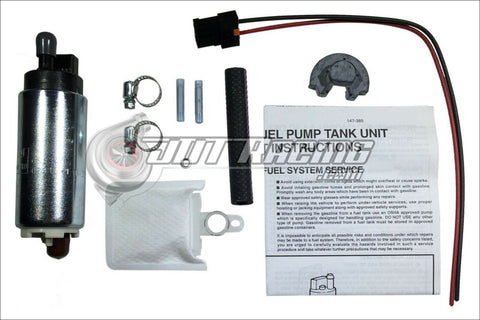 Walbro GSS350G3 350lph High Pressure Fuel Pump & Install Kit 91-96 Toyota MR2 84-92 Supra 85-93 Celica
Manufacturer Part Number: Walbro_GSS351G3/400-760
Description:
Guaranteed In Stock & Ready to Ship. Orders placed by 2PM EST Monday - Friday Ship Same Day w/ Tracking!!

Brand new Genuine Walbro 350 LPH High Pressure InTank Fuel Pump GSS351G3 complete with 400-760 Installation kit.

Walbro/TI Automotive's new GSS fuel pumps are lapping the field with increased flow rates of 350lph. Our proven, robust gerotor technology is inside every 39mm straightwall GSS 351, perfect for forced induction (turbocharged and supercharged) applications.

Includes:
* (1) Walbro GSS351G3 350lph High Pressure Fuel Pump
* (1) Walbro 400-760 Vehicle Specific Installation Kit

Fits the following vehicle(s):
- 1984-1992 Toyota Supra Non Turbo
- 1984-1992 Toyota Supra Turbo
- 1991-1996 Toyota MR2
- 1985-1989 Toyota Celica
- 1990-1993 Toyota Celica Turbo All Trac AWD

- This is a High Pressure Fuel Injection pump.
- This pump works extremely well between 25-70psi.
- Its capable of supplying enough fuel for 600hp in a Naturally Aspirated setup or 500hp in Forced Induction(Supercharged or Turbo) setup.
- Walbro in-tank electric fuel pumps utilize a proven gerotor design. The outside dimensions, however, are compact enough to fit existing hanger assemblies, without modification.

Warranty:
Includes 1 Year Manufacturer's Warranty from Date of Purchase.
Please Note: Walbro warranty only applies if you use this pump with Gasoline (Excludes E85, if you need a pump for E85 please see our other listings. We have them available in our store.)
People have run these with Diesel but Walbro will not warranty this pump if it had Diesel fuel run through it.

Shipping:
Free Shipping to anywhere in the USA including Alaska, Hawaii & Puerto Rico via USPS 2-3 day Shipping with Tracking.